2019 Medal of Valor Award Winner: Lieutentant Byron Braxton
February 2, 2019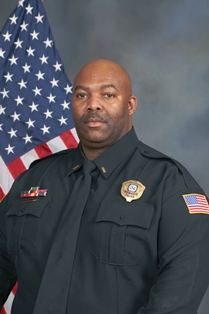 On June 17, 2018, while on his way home after completing his shift, Lt. Byron Braxton observed a car driving recklessly on Bill Morris Parkway. Upon closer observation, Lt. Braxton realized the male driver of the car was assaulting a female passenger.
Lt. Braxton used his MPD radio to request on duty officers to stop the vehicle and investigate. He continued to follow the car to a convenience store and watched the suspect exit his car with a handgun. The suspect walked to the passenger side of the car where the female was still seated. The suspect then fired one shot into the air. Lt. Braxton could not wait any longer, he exited his car and intervened. Lt. Braxton was armed with his MPD issued weapon and ordered the suspect to drop his weapon.
Upon seeing and hearing Lt. Braxton, the suspect ran into the convenience store with his handgun. Lt. Braxton then chased the suspect into the store. The suspect hid behind an aisle while Lt. Braxton held him at gunpoint giving commands to disarm. The suspect placed his weapon on a shelf and on duty officers arrived and took the suspect into custody.
Lt. Braxton's actions prevented an armed suspect from committing an act of violence. This situation could have turned into a homicide. Lt. Braxton put himself in harm's way to save others. His actions are in the finest tradition of the Memphis Police Department.